If your New Year's resolution is to get toned and build lean muscle, we've got just the thing for you at PumpFit Club — Muay Thai classes with our kickboxing instructor and personal trainer, Kari! These intense kickboxing workouts will get your whole body fired up so you can go into the New Year looking and feeling like the badass you are. Sign up for our Kick It With Kari classes here, or continue reading to learn more about these Muay Thai boxing-inspired kickboxing workouts at our boutique fitness club in Fort Lauderdale!
About Our Muay Thai Classes
Kick It WIth Kari is a unique kind of Muay Thai training that combines Thai boxing techniques with intense, full-body exercises that get your muscles fired up for a killer workout. Each session consists of 12 rounds of two-minute kickboxing durations, with a bumpin' playlist to keep you moving and sweating the entire time. Some of the Muay Thai moves we include in this high-intensity kickboxing session include Tae Tad (round kicks), Sok Ti (striking elbow), uppercuts, hooks, jabs, and of course, straight punches. If 2018 just wasn't your year or you're ready to crush your fitness goals in 2019, let it all out in this kick-ass kickboxing class at PumpFit Club!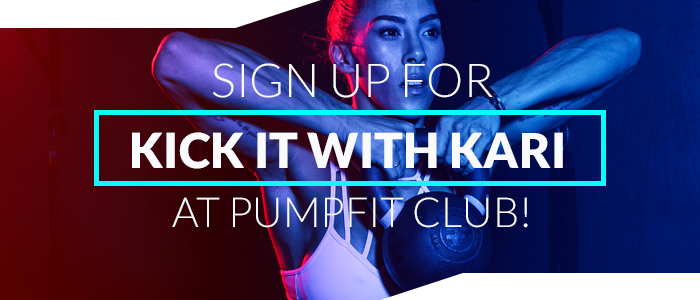 The best part of our Muay Thai classes is that no kickboxing experience is required, making them a great kickboxing class for beginners or for anyone who is looking to mix up their fitness routine with fun, new exercises that get you fired up like never before. At our fitness gym, nothing is more important to us than helping you conquer your goals, whether that be to start working out more regularly or to shred fat, lose weight, and build muscle for a healthier, happier you. No matter where you are in your fitness journey, our kickboxing classes are a great way to burn off some steam and get fit in a fun, pumped-up environment!
Sign Up For A Muay Thai Kickboxing Workout At PumpFit Club
Ready to kick off the New Year with a killer workout that will get your adrenaline pumping? Click here to learn more about our Kick It With Kari kickboxing classes, which are held at 9:45 a.m. every Monday, Wednesday, and Friday at PumpFit Club in Fort Lauderdale. Be sure to also check out our other group fitness classes that include kettlebell workouts, circuit training, high-intensity interval training (HIIT) and more. Let's get pumped up in 2019 and crush our fitness goals together!